Top Email Marketing & List Building Tools for Your Business
It doesn't matter whether you're a blogger, author, life coach or business coach (just to name a few), you must have an email list.  Building a list of people who are interested in what you have to say and what you have to offer is an essential part of being successful online.
To build this list, offer a "bribe" (a free report, checklist, video tutorial, etc.) in exchange for them giving you their email address. As you continue to build this list, it's important that you stay in contact with them on a regular basis by sending them relevant content and offers.
In order to manage this list and email them, you will need to have an email management software provider. Here are a few things your email marketing software provider should offer:
Option to have multiple lists.
Option to send messages immediately (often known as a broadcast message).
Option to set up auto-responders (messages that will automatically be sent at certain times after someone signs up. Example – 1st message would go immediately after they sign up, 2nd one could go a week later, 3rd one a week after that, and so on)
Email Marketing/List Building Providers I have Tried & Recommend:

Drip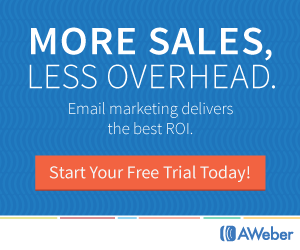 What I like about Aweber is that their email software is simple to navigate and use. They also offer a lot of training and support to help newbies get familiar with how to grow their list, manage their subscribers and market to them consistently to build business revenue with email marketing. If you need help understanding how to properly craft your emails to get the most out of your email list, here's a FREE course they offer to get you started: it contains 45+ email content templates and the complete course to writing great emails. You'll learn how to craft the perfect message in you emails or you can just use their email templates and fill in the blanks!
All the tools you need to write emails like an expert
Whether you're just getting started with email marketing or want better results from your emails, you'll get the tools, guidance & expertise you need to succeed. Here's what's included in their FREE Course:
More than 45 fill-in-the-blank copy templates
Writing emails has never been easier or faster, you'll dd your info to the blanks in the templates like a game of MadLibs. Then, just simply paste the content into your email marketing platform and hit send.
How to write every single email you should be sending
If you're unsure of what emails you should send & what to write in them? You'll learn about the most important ones – automated emails, survey emails + sale emails.
Homework to Help you take action
To prevent procrastination & help you apply what you learn, you'll get manageable homework broken down into simple steps that you can complete in less than 15 minutes.
Expert copy writing strategies to optimize your all of your emails
Trying to get more opens, clicks & sales from your current emails? Here you'll learn copy writing tricks that'll catch your audience's attention and help you surpass your goals.
CLICK HERE TO GET YOUR FREE EMAIL TEMPLATES
Drip is a platform that provides Marketing Automation focused on providing your leads + prospects with customized information based on their behavior, interactions with your website & company. Drip focuses on the email + analytics portion of marketing automation, and takes it one step further by interacting with your trial users and customers as well.
Constant Contact to me is by far one of the easiest email marketing platforms to start off with. If you're looking for something to just get started and build your list from 0, this is definitely the software to go with. I love the fact that you can actually call in and speak to a real person and get your questions answered.
Constant Contact makes email marketing easier, faster, and pretty fun
They provide beautiful templates you can use to give your emails  a professional look and feel. An easy-to-use editor and powerful list-building tools. Expert advice from an account manage is at your finger tips, as well as live support. Constant Contact delivers pretty much everything you need to connect with your customers, grow your business & see big-time results pour in—in real time. They also offer a FREE Trial to get you started and their pricing is very affordable compared to other email marketing platforms out there.
My Favorite List Building Tools:
LeadPages

Appsumo ListBuilder
Leadpages helps you Turn Clicks into Customers - I think that they have the best software for list building. Leadpages helps you connect with your audience, collect leads & close sales all in one software. You can easily build your website, landing pages, pop-ups, alert bars, and so0 much more.
I like it's simplicity - you can create high-converting websites + landing pages
quickly and easily publish your first webpages in a matter of minutes. First things first, you'll start with a conversion-optimized + mobile-responsive template (they have tons to choose from). You would then customize it inside their Drag & Drop Builder, and a few minutes later launch a professional-looking landing page or website that's designed to convert your leads into sales.
Please Note: Some of the links on this post may be affiliate links. That means if you click on the link and purchase the item, we may receive an affiliate commission as their "thank you" for sending you their way.